Iran and the P5+1 announced on January 16 that Iran had met its obligations under the terms of the nuclear agreement and would immediately receive a first round of sanctions relief.  "Implementation Day" of the agreement arrived sooner than expected, as Iran rushed to limit the scope of its nuclear work and stockpiles, including by diluting or exporting enriched uranium, removing the core of its heavy water reactor at Arak and selling off excess heavy water, and dismantling about 13,000 centrifuges.  The International Atomic Energy Agency (IAEA) confirmed Iran's actions, along with the implementation of transparency measures required by the agreement, thus triggering sanctions relief.
Sanctions Relief by Sector
In the first round of sanctions relief, the European Union, United States, and United Nations lifted the bulk of its nuclear-related sanctions against Iran, including most of the restrictions that had been imposed against Iran's financial, transport, and energy sectors.  (U.S. parties will still be prohibited from doing business with Iranian entities because of the embargo.)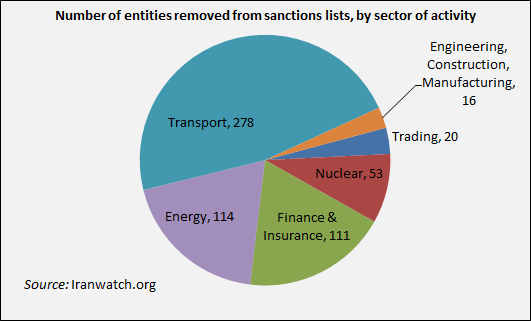 In addition, some 600 individuals and firms were removed from the E.U., U.S., and U.N. blacklists.  Nearly half of these removals represent entities associated with Iran's transport sector, in particular the national container shipping company, Islamic Republic of Iran Shipping Lines (IRISL), the National Iranian Tanker Company (NITC), and their many branch offices and front companies.  Twenty percent of the entities receiving sanctions relief are from Iran's energy sector; 20 percent from its finance and insurance sector; and 9 percent from the nuclear sector.  The remainder includes engineering, construction, or manufacturing firms, or import-export firms that facilitate trade.
Many of these entities may seem far removed from Iran's missile program or past nuclear weapon effort, which first triggered sanctions; they are not.  For example, the Atomic Energy Organization of Iran and several AEOI departments and divisions have been removed from U.N., E.U. and U.S. blacklists.  One such department, Jabber Ibn Hayan, was the location of undeclared uranium metal production and irradiated reactor fuel experiments, and the storage location for separated plutonium.  Other AEOI subordinates, like Mesbah Energy and Kavoshyar, have been involved in illicit nuclear procurement.
Banks and other financial institutions that helped Iran evade sanctions, or actively financed proliferation-related transactions, have also received sanctions relief.  One example is the German-based Europaisch-Iranische Handelsbank (EIH Bank), which has been removed from both U.S. and E.U. blacklists.  This bank has facilitated billions of dollars in transactions on behalf of sanctioned Iranian banks and Iranian proliferators, reportedly including the Iran Electronics Industries, the Defense Industries Organization, Aerospace Industries Organization, and the Iranian Revolutionary Guard Corps – none of which are being removed from sanctions lists.  EIH Bank is poised to resume "its full range of services at the disposal of old and new customers," according to its website.[1]
Iran has a history of using entities in its energy sector as fronts for illicit dual-use procurement.  Some of the energy companies implicated in this trade have been removed from blacklists.  Kala Naft and Jam Petrochemical are two examples.  The former, which has been struck from U.S. and E.U. blacklists, calls itself the procurement arm for the National Iranian Oil Company.  Its attempt to procure bellows seals was denied by a member state of the Nuclear Suppliers Group (NSG).  Jam Petrochemical has made similar procurement attempts, also denied by NSG member states.
Iranian vessels will once again be welcome in ports around the world, and dozens of domestic and overseas branches of Iran's national shipping firms will be able to resume operation.  Many of these firms were originally added to blacklists because of their status as affiliates or front companies used by IRISL or NITC.  Treasury designated a number of IRISL affiliates "for providing logistical services to Iran's Ministry of Defense and Armed Forces Logistics (MODAFL)" – an entity that remains blacklisted.[2]  IRISL branches located in destinations of concern for transshipment, and that helped Iran evade sanctions have also been removed from blacklists.  For instance Good Luck Shipping in the United Arab Emirates "issued false transport documents for IRISL and entities owned or controlled by IRISL," according to the European Union.[3]
A Summary of European Union Sanctions Relief
The EU terminated all nuclear-related economic and financial sanctions, including restrictions on:
Transfers of funds between EU entities, including financial and credit institutions, and Iran
Banking activities, including the opening of new branches of Iranian banks in the EU and the opening by EU entities of new offices, subsidiaries, joint ventures, or bank accounts in Iran.
Insurance and reinsurance for Iranian entities.
The import of Iranian oil, gas, and petrochemical products.
Investment in and the export of equipment for Iran's oil, gas, and petrochemical sectors​
The shipping, shipbuilding, and transport sectors.
The export of gold, precious metals, and diamonds and the delivery of Iranian banknotes and coinage.
Iran will also regain access to financial messaging services, including SWIFT, on Implementation Day, but banks that remain designated by the EU will remain cut off from those services until Transition Day.
The EU will also lift sanctions that impose asset freezes and travel bans on a set of 337 companies and individuals (mostly in the financial, energy, shipping, and transport sectors).
A Summary of United States Sanctions Relief
The United States ceased the application of the bulk of its secondary sanctions on non-U.S. persons engaged in Iran's financial and energy sectors.  This was be done by executive waiver.  However, the agreement noted, "U.S. persons and U.S.-owned or -controlled foreign entities will continue to be generally prohibited from conducting transactions of the type permitted pursuant to the JCPOA."
The secondary sanctions suspended in this first round include restrictions on:
Financial and banking transactions with Iranian financial institutions.
Transactions in Iranian Rial.
The provision of U.S. banknotes to the Government of Iran.
The purchase or facilitation of issuance of Iranian sovereign debt.
Financial messaging services.
Insurance and re-insurance.
Sales, investment, and transport of Iranian oil, gas, and petrochemicals.
Shipping, shipbuilding, and port sectors
Trade in gold and other precious metals.
The United States also removed a set of 446 entities from various restricted party lists (mostly Iranian financial institutions, individuals and entities designated for being part of the Government of Iran, as well as entities in the energy, transport, and shipping sectors), plus an additional set of individual vessels and aircraft owned by delisted entities.
An Update on United Nations Sanctions
On Implementation Day, U. N. Security Council resolution 2231 officially terminated the provisions of previous Iran-related resolutions: resolutions 1696 (2006), 1737 (2006), 1747 (2007), 1803 (2008), 1929 (2010), and 2224 (2015).  As a result, 36 entities were removed from the U.N. sanctions list, of the 121 entities that had been blacklisted since 2006.  Sanctions will remain in place on the remaining 85 entities for eight years, or until the IAEA reaches its Broader Conclusion that "all nuclear material in Iran remains in peaceful activities."
The previous six Iran-related resolutions had targeted Iran's nuclear, ballistic missile, and conventional arms programs, while imposing limited penalties on the country's financial and transportation sectors.  Resolution 2231 leaves in place the following U.N. sanctions:
A conventional arms embargo (five years).
A ban on ballistic missile technology imports and ballistic-missile related activity (eight years).  The language of the new U.N. resolution on the restrictions on ballistic-missile related activity appears to be more permissive than the ban under previous resolutions.​
Restrictions on nuclear-related procurement, overseen by the procurement channel that is not yet operational (ten years).
---